Pit Smoked Original Summer Sausage - 12 Oz.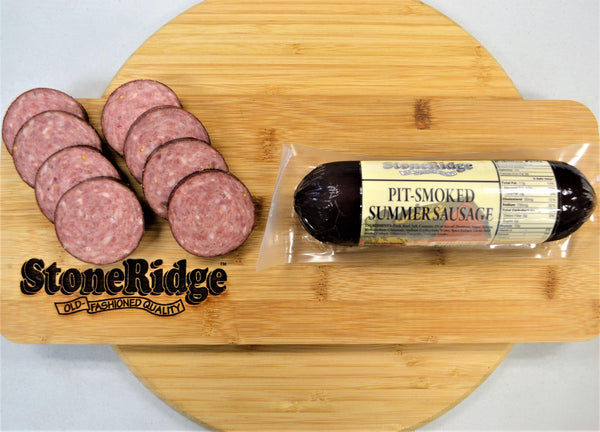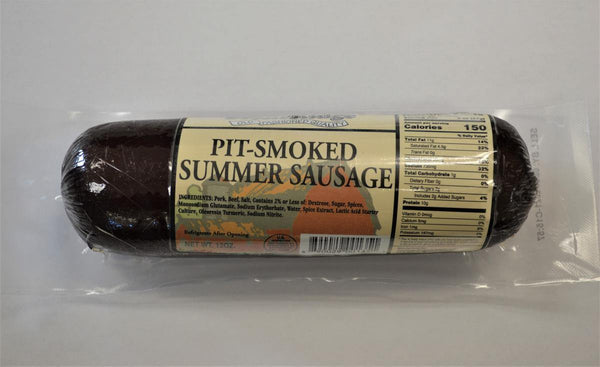 Old-Fashioned recipe summer sausage, smoked in a concrete pit smokehouse for 12 hours using real hardwood logs and smoked over a natural fire to create an authentic, aged flavor that can't be achieved any other way. 
Perfect snack for your get-togethers, and it will be a hit!
Refrigerate after opening.
Customer Reviews
03/18/2023
Jerry D.

United States
BY FAR THE ABSOLUTE BEST SUMMER SAUSAGE YOU HAVE EVER TASTED
This sausage is the PERFECT blend of lean meat and a mixture of spices. ADD on the delicate PIT SMOKED flavor and it's an instant winner. Goes great with with your favorite wine or cheese.
02/18/2023
Bradley P.

United States
Best around
This is some of the best sausage I have ever had. The smoke flavor is really good. I would highly recommend this item to everyone, you won't go anywhere else.
02/06/2023
darrell c.

United States
best summer sausage
best tasting smoked summer sausage ready to eat served with good cheddar cheese can't beat it a fast snack
12/03/2022
Anonymous

United States
best summer sausage ever
i have never had any other that was evan close
11/28/2022
Anonymous

United States
good summer sausage
I purchased some at woodmans a while back and was the best summer sausage i ever had. i went back to woodmans but couldn't find it so i ordered some direct from you. i plan on giving some out for christmas!