Pit Smoked Natural Casing Summer Sausage - 16 Oz.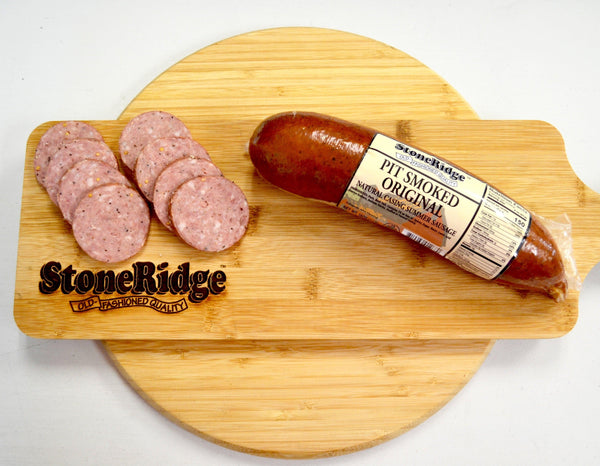 Old-Fashioned recipe summer sausage, smoked in a concrete pit smokehouse for 12 hours using real hardwood logs and smoked over a natural fire to create an authentic, aged flavor that can't be achieved any other way. Sausages are stuffed into natural hog casings which allows for the most nutrients to be retained. A throwback flavor to the days of homemade sausage that you won't find anywhere else. 
This delicious, too-good-to-be-true smoked sausage that is best served one our Wisconsin cheeses, fruits and crackers, but also heats up great for a comforting hot sandwich.
Contains No MSG. Refrigerate after opening.
Customer Reviews
03/16/2023
Lance W.

United States
Best tasting sausage
Lean and tasty with nice smoke flavor. The hanging string is the real deal!
12/31/2022
Anonymous

United States
Sausage party
This is one of the best summer sausages I've ever had. Great flavor with just a little smoke.
12/30/2022
Stephen H.

United States
Simply the Best Sausage Made
Living near the border with Wisconsin, I have spent years trying the different sausages made in the land of Sausage, Beer and Cheese. I first found this summer sausage while working out of state. How good is it?, I spent months trying to find it local when I returned home. I wasn't successful in locating it locally so I resorted to ordering it on line. I've never done that with any other sausage. That is just how good it is.
12/13/2022
Anonymous

United States
Sausage
I love the smoke flavor of the sausage
08/20/2022
Monte W.

United States
Pit Smoked Original Natural Casing Summer Sausage
I love this stuff. I first tryed this several years ago when our local Wal-Mart (Sioux Falls SD) carried during the holidays. I ended buying at least 10 till the supply ran out. The next year they had it about the same time so again I stocked up. Since then they haven't carried it and I have been greatly disappointed. Wal-Mart carries other Stoneridge products. I finally took the time to order it direct and it worked great. I will not buy any other summer sausage, I think it is that much better then any other summer sausage.