Pepper Jack Slicing Summer Sausage - 15 Oz.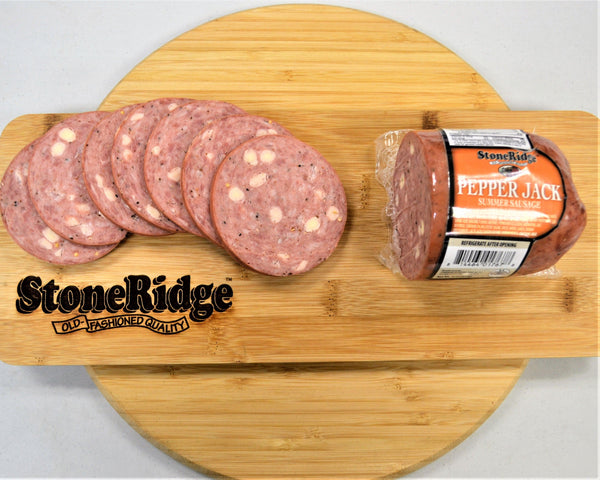 Our Pepper Jack Summer Sausage is sure to be enjoyed by all of your family and friends. This product has a lot of meat flavor, but with the added zest of pepper jack cheese. A great Wisconsin Pepper Jack cheese marbled throughout our slicing summer sausage. It's great for your summer BBQs, or just snacking around the house. You'll fall in love with this addition to our sausage lineup.
CONTAINS ALLERGEN: MILK / CONTAINS NO MSG
REFRIGERATE AFTER OPENING
Customer Reviews
05/12/2022
KRIS T.

United States
Pepper Jack Summer Sausage
Second time ordering...this is great stuff...no after greasy taste. Just a good chunk of meat and a taste of cheese. Doesn't stay around too long so I know I will be ordering more in the near future.
Awsome
I love it!!!! I've been hoping you would and some cheese to your summer sausage without being spicy hot. And the cheese is great and creamy. I'm diabetic and your sausage is a satisfying snack. Thanks a lot. This sausage will be on my snack table this Christmas!!!! Pam Liberty Missouri