Ghost Pepper Monterey Jack Cheese 8-9 oz Piece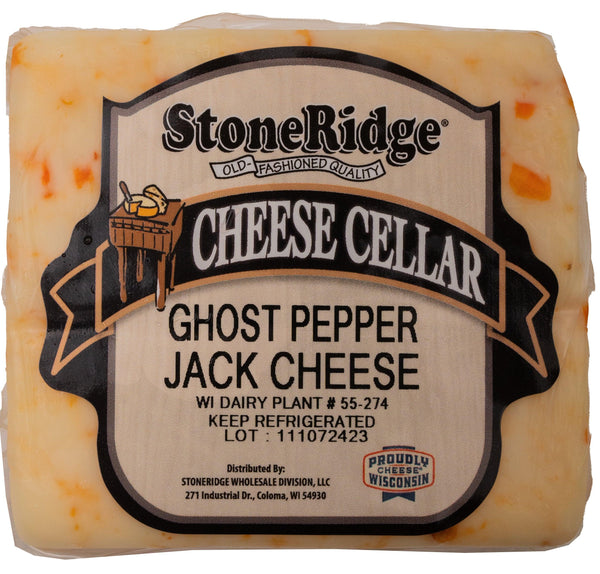 Ghost Pepper Monterey Jack cheese is made using the ghost pepper, one of the world's hottest peppers. A heat lover's dream, this Monterey Jack has a smooth and creamy flavor with big hot pepper punch. It is excellent eaten straight out of the package, sliced onto burgers, pizza, or tacos, melted on nachos or fries, or used in chili. The product varies in size (8-9 OZ.).
Keep refrigerated before and after opening.
Want more Ghost Pepper? Try our Ghost Pepper Cheese Curds.
---
Where do Ghost Peppers rank on the Scoville Chart?
In 2007, the ghost pepper ranked as the the world's hottest chili pepper. With a Scoville score of 1,041,427 SHU, it is about 400 times hotter than Tabasco sauce, about 200 times hotter than a jalapeño pepper, and about 6 times hotter than a habanero pepper. (per Small Axe Peppers)
Customer Reviews
11/12/2023
Hannan S.

United States
Delicious
This is by far my favorite cheese. Couple months ago, they stopped selling it at my local Woodmans, and I got very sad about it. Whenever we would go grocery shopping, I would check for it. Today, I went in and they had it again! When I tell you this is the best spicy cheese I have found, I mean it. The spice factor is there, (could be a little more spicy...) but the creaminess of this cheese does not compare to other spicy cheeses. The flavor is also fantastic. I have another cheese from another brand that is just kinda bland. They have their recipe down to a T. I will continue to buy this cheese until they stop selling it.
01/07/2023
Kirsten T.

United States
Ghost Peppers
This is my favorite! Nice hot kick.
12/04/2022
Sean E.

United States
Spicey
Another good cheese with a bite! Be warned, it is hot.