Garlic Summer Sausage - 12 Oz.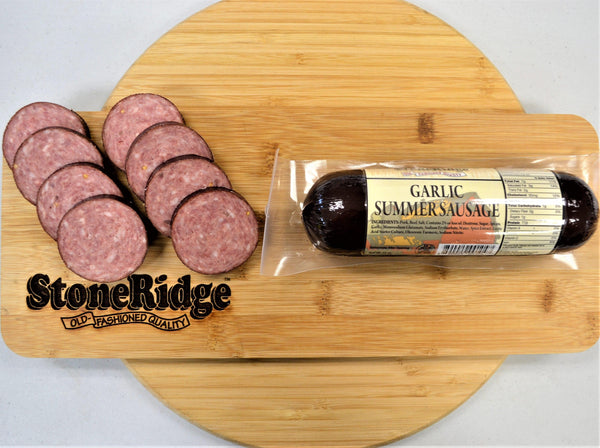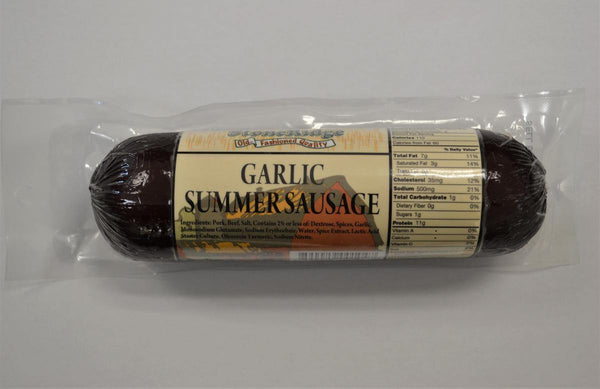 Old-fashioned recipe summer sausage, smoked in our state-of-the-art smokehouse with real hard-wood. Creates a smoky flavor that only comes from a slow-smoking process, and add the garlic, you have perfection. A nostalgic flavor reminiscent of homemade sausage that you won't find anywhere else. 
Refrigerate after opening
Customer Reviews
The best
The garlic is excellent!
01/10/2022
cameron j.

United States
Delicious
Being I can't get the product shipped year round. I stocked up on meat and cheese snacks . The buffalo cheese curds are awesome
Back tracked for more!
I saw the Garlic Summer Sausage at a local supermarket yesterday. I have always loved anything garlic!! Being stationed in Italy for 6 years brought about my love of garlic. Italians use garlic to enhance yet not overpower. This is EXACTLY what Stoneridge achieved. It is a mild and wonderfully flavored summer sausage with a perfectly blended amount of garlic. I tasted it when i got home and it simply melted in my mouth. I grabbed the keys and drove back and bought 5 more!! Awesome flavors, no after taste, simply heavenly. Great with you favorite wine and crackers. I am so glad I can buy it from the website no matter where i am at while traveling in the future too!!