5 Year Aged Yellow Cheddar Cheese 8-9 oz Piece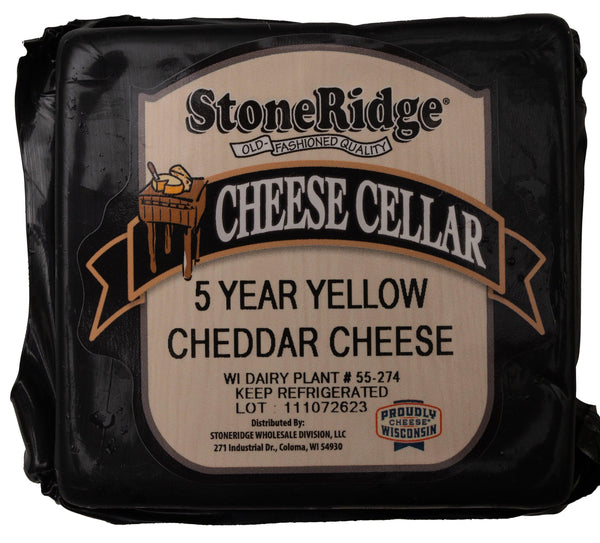 This Wisconsin cheese has been aged for over 5 years making it a great balance between sharp taste and creamy texture. This cheese is great for cold sandwiches or fondue due to its smooth paste-like consistency.
The product varies in size (8-9 oz.). 
Keep refrigerated before and after opening.
As cheddar ages, it goes from mild to tangier with more complex and deeper flavors. Its texture also goes from smooth and creamy to developing hard, salt-like crystals called calcium lactate. The best way to understand the age and sharpness of cheddar is to taste two different ages of cheddar side-by-side. So if you're craving some 'cheese crystals', look at our 10 Year Aged Cheddar. 
Aged Cheddar cheese has a strong flavor: it's nutty and fruity, very savory and piquant. When pairing the cheese with a meal, if drinking with beer, serve it with a bitter and fruity beer. In terms of types of beer, strong pale ales or brown ales are a perfect pairing with this hard cheese. If pairing with wine, Cabernet Sauvignon is the best aged Cheddar wine pairing. The strong and sharp flavor of Cheddar matches well with the tannic and fruity taste of Cabernet Sauvignon. (per Wine Enthusiast).