Pit Smoked Garlic Natural Casing Summer Sausage - 16 Oz.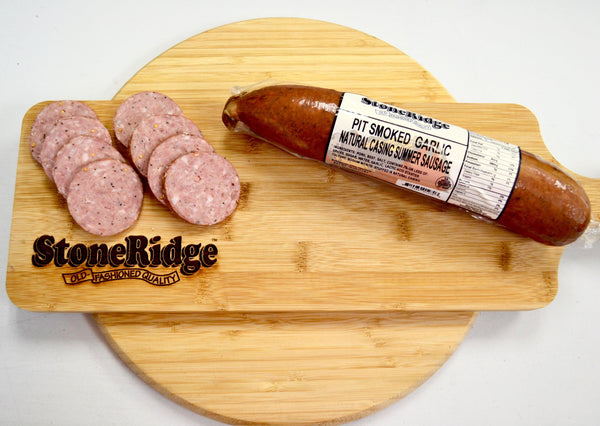 A deep, earthy smokiness with that garlic taste everyone loves. Summer sausage is a great addition to any picnic, family barbecue or tailgate party! Smoked over hardwoods, using the same natural casing as our original sausage, this product comes in a 16 oz. package.
Contains no MSG / Refrigerate after opening
Customer Reviews
11/13/2023
Melissa H.

United States
Onion and garlic sausage in natural casing
My boyfriend looks forward to his Christmas package of sausage every year. He loves Stoneridge meats!
06/20/2023
Anonymous

United States
Delicious!
This is the best tasting summer sausage I've ever had!
04/24/2023
Brian V.

United States
Greatful
I had a pretty big order(for a single person) which was meant for a month long trip in and on the Appalachian trail. Order showed up and was warm. Just called and they fixed the problem and very happy with the product. ABSOLUTELY DELICIOUS
03/19/2023
Kent C.

United States
Taste great
Smokey flavor!!
02/11/2022
Karri P.

United States
Pit Smoked Garlic Natural Casing Summer Sausage
It has a perfect texture and amount of garlic. I would highly recommend any and all products from this company.